Outdoor Christmas Lights, Wreaths and More
Our outdoor Christmas decorations, wreaths, Christmas light ideas, and projects are sure to make your front porch decorating easy and fun this season.
Advertisements

With seven grandchildren, Christmas is indeed a magical time of year for Mary and I.
We can't think of a better way to get front porch holiday decorating ideas than to see what others have created.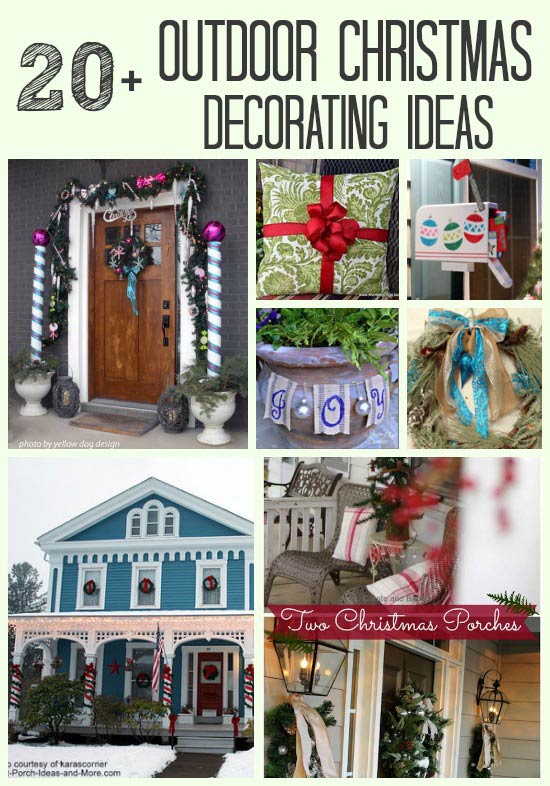 Take a look at all the Christmas decor ideas we have in store for you here
Outdoor Christmas Decorations Directory
Most Popular Christmas Decorating and Lighting Ideas
Ideas for Outdoor Christmas Decorating
From garland to lights to trees to wreaths…
It's the time of the year when people love to pull out all the stops. From simple to elaborate, traditional to elegant, your porch can easily look festive for the Christmas season. We share some nice ideas with you.
Denise and Audra are a mother daughter team who have decorated their porch in a most elegant way.
Come visit their rocking chair Christmas porch. It's a beautiful example of Christmas decorating at its finest.
Are you a fan of the Grinch?
Donna loves the Grinch and uses the bright red and Grinch green to decorate her front porch for Christmas. You'll love her zany Grinch decorations.
See stunning photos of Christmas lights for dazzling ideas for your own front porch and yard
Nothing says Christmas like a beautifully lit front porch
Greet friends with the glow of holiday light displays
Advertisements
Lighted Outdoor Christmas Decorations
Light your way to a festive holiday season with these unique outdoor lighting ideas.
Mary and I chose several outdoor lighting options for Christmas that we think you'll really enjoy. We also offer ideas and tips to make your lighting special.
How to Make Your Own Christmas Wreath
One of the easiest ways to add holiday spirit to your porch is to make a wreath for your front door.
We have instructions, pictures and videos to help you get some nice ideas and get quickly started. If you have made a neat wreath for your porch, we'd love to hear about it, too!
Outdoor Christmas Decorating with Lights
Who doesn't love a porch that sparkles and twinkles for Christmas?
You won't believe how many different kinds of lights there are. We have some safety tips, too.
Decorating on a Budget for Christmas
We gathered up 10 (maybe 11) ideas that won't break the bank
From PVC pipes to picture frames to covering empty boxes.
Use ribbon-tied pillows and old fashioned planters; Snow dust your tree – see how it is done, and more
Outdoor Christmas decorations must include a gorgeous wreath for Christmas.
Wreaths can be creative and easy on the budget. See our wreath pictures to inspire ideas for your own home.
Kimberly's Country Porch at Christmas
When Kimberly and her husband built their home, a large country porch was on their wish list.
Now that their home is built, Kimberly loves decorating for all seasons. See how she decorated her country front porch for Christmas!
Make Your Own Outdoor Christmas Decor
Dave and I had a good time decorating our porch with Christmas decorations we made ourselves …
We have all kinds of simple ways to make your porch festive for Christmas.
Beautiful Christmas Lighting Ideas
Last year we had the good fortune of visiting the Seaside Ranchos neighborhood in Torrance CA
They do a wonderful job of outdoor Christmas decorations and you'll love the photos by Painted Bench Photography.
More Christmas Decoration Ideas You'll Love
Decorating Your Christmas Door
Featuring holiday decorations and tips for making your front door a delight to behold.
Gold, antique white and burlap make for a very pretty holiday porch. Use colorful ornaments and picture frames for front door wreaths
More Christmas Door Decorations
Make bigger-than-life candy canes from PVC pipe.
Enjoy Dee's colorful sparkling gift box garland
See Kathleen's classic outdoor Christmas decorations, Debbie's beautifully lit garland and Kristy's palm frond and red scarf decorations.
Susan's Christmas Wreath Decorations
Susan enjoys traditional decorating. Her Christmas wreath decorations on the outside of her home are very charming and beautiful.
She shares photographs of her home, porch, and front yard decorated with gorgeous Christmas wreaths, greenery and bows.
See these wonderful outdoor Christmas wreaths and wreath ideas for your porch. Charming wreaths along with ideas for making your own holiday wreaths.
Ring holiday bells with these fun and appealing outside Christmas decoration ideas….
From simple to the most charming, you'll enjoy seeing these ideas….
Houses Decorated with Gorgeous Christmas Lights
Dave and I have gathered pictures of houses decorated with Christmas lights.
Can't wait for you to see these beautiful homes! We are grateful to the photographers who shared their pictures with us.
Dawn's Beautiful Christmas Greenery
Dawn has used fresh greenery, vines, shiny gold and silver ornaments and sparkly stems to deck out her porch for Christmas.
She has a flying snowman, too, that is so cute. Porch decorating with natural greenery is classical and beautiful!
Amazing Christmas Ideas You Can Use
Bloggers' Christmas Decorations
Two special bloggers share their porch decorating ideas for Christmas
Clydia's tomato cage Christmas trees and Colleen's screened porch all decorated
Learn from an outdoor lighting expert tips for improving your outdoor lighting endeavors.
Discover these tricks of the trade to make holiday lighting easier.
Ideas for Vintage Christmas Decorating
Love vintage? We have a bunch of fabulous ideas for decorating vintage-style for Christmas.
Many of these pictures have been shared by bloggers and kind readers of ours. Thank you!
Christmas In Brooklyn Photo Gallery
Enjoy these amazing and beautiful holiday lights by photographer Becca Dorstek
This Brooklyn neighborhood goes all out, competing against each other to see who has the best holiday light display. We know you'll love the photos and get great ideas for your own front porch and yard.
Two Christmas Porches – Jeanie's and Melanie's
Melanie shares her charming Georgia porch. It's a wonderful wraparound – sparkly and magical.
Jeanie shares her daughter's Christmas porch with us. She decorated it with a tablecloth. So cute! …
Make a Christmas Mailbox Decoration
Our Christmas mailbox even has letters and a package
This is one of our outdoor Christmas decorations that Dave built and I painted.
Four Awesome Bloggers' Christmas Decorating Ideas
Creative Cain Cabin, On Sutton Place, Debbie Doos and Cottage at the Crossroads …
Four bloggers. Four styles. Four inspirational themes!
Nostalgic Grapevine Christmas Wreath
See the tutorial for this grapevine Christmas wreath we made for our front door
Creative Christmas Decor Ideas
We had fun visiting Dreaming In Color in Murfreesboro TN …
Kraft Paper Poinsettia!Santa Legs! Ice Skate Wreath! What a lovely shop full of eclectic handcrafted vintage items and gifts.
See all their creative Christmas decorating ideas.
Kelly's Christmas Decorating Ideas
Plum Doodles loves purple …
Colleen loves red and Anna loves a sumptuous tan. See what we mean…
Outdoor Christmas Decorations at Sheila's, Colleen's and Anna's
Kelly lives in sunny California and …
She created this sweet vignette for you to see. Ice skates from her high school days, a colorful plaid blanket, vintage lantern, pine cones and more…
J-O-Y Christmas Pillow Toppers
We think you will like our pillow toppers that spell J-O-Y
They are easy to make and perfect for your porch
We have collected wonderful come wonderful outdoor Christmas decorations, project ideas, and tips to make decorating for Christmas most enjoyable for the entire family.
You will find easy and unique Christmas decorating tips and ideas from the very simple and inexpensive to the sophisticated for real front porch appeal. Each section offers you the opportunity to create just the right holiday appeal for your home.
Discover Our Fun Christmas Audio Program
Mary and I are excited to share our Christmas audio program with you. We had fun interviewing these folks to find out how the experts "do it" – and we get to share what they divulged with you!
Listen to our discussion with Anita Diaz of Far Above Rubies who shares her love of Christmas and ideas to make your holiday sparkle!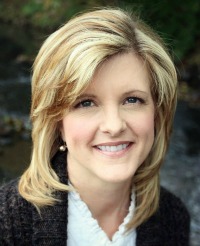 Listen to Jennifer of Decorating Ideas Made Easy who is an interior decorator and has a myriad of ideas for Christmas projects that are easy and fun to do!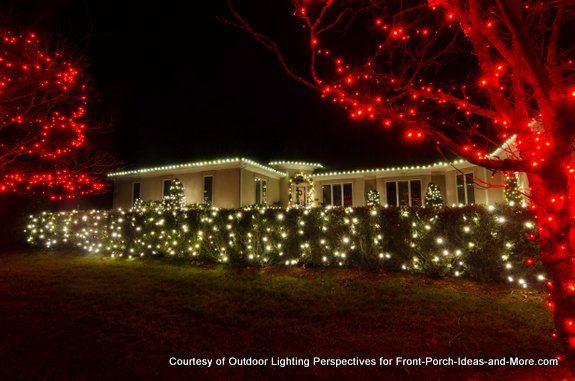 Before you put up holiday lights be sure to listen to our conversation with Bob Lyons Sr. of Outdoor Lighting Perspectives, who shares his trade secrets for installing and maintaining your lights. Find out who decorates his roofs and what he uses to hang lights on trees!
Taking exquisite pictures of front porch holiday lights can be tricky so we enlisted the help of Becca Dorstek. Becca has taken a myriad of holiday light photographs and shares what you need and how to get the best results.
Be sure to see our extensive front porch audio program directory!
All is Calm. All is Bright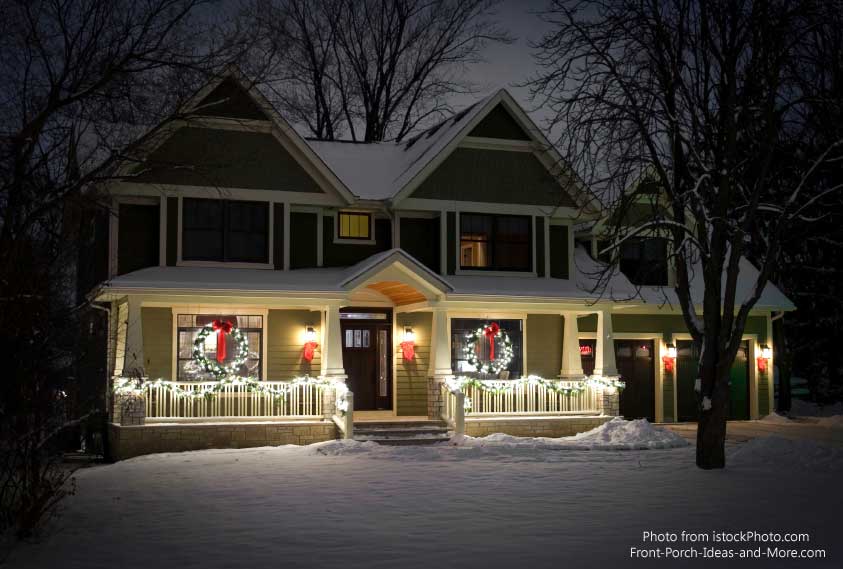 Isn't this a lovely Christmas scene?