I'm legit in love with these hair looks.

by AMA KWARTENG JAN 28, 2020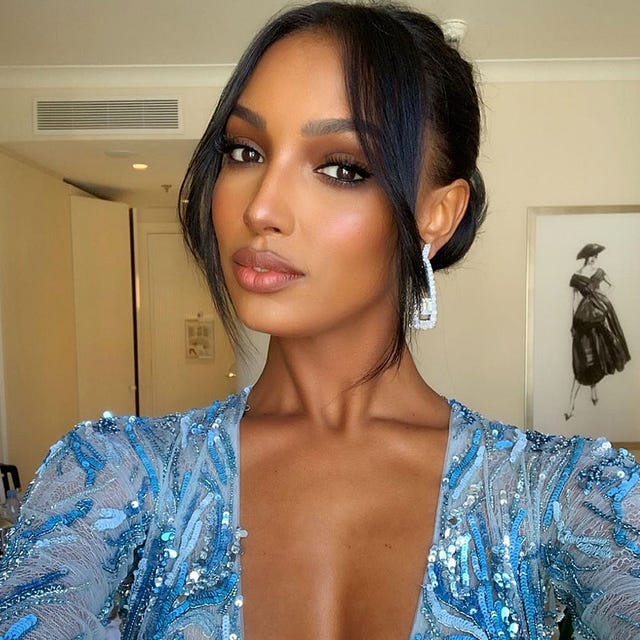 @BRYCESCARLETT, @JASTOOKESINSTAGRAM
Whether you're celebrating with your boo or going out with your friends, Valentine's Day is the perfect excuse to try out a new hairstyle. BUT, it can be low-key hard to find that perfect look. You don't want to look like you tried way too hard (even if you did), but you also don't want to look like you legit rolled out of bed and didn't even brush your hair. Well, don't worry—I compiled the cutest Valentine's Day hair ideas from Insta to help you out. Forget those corny, elaborate updos of the past—these Valentine's Day hair ideas are sleek, modern, and cool. Screenshot your faves to wear on February 14 (and any day after).1Valentine's Day Hairstyle: Julianne Hough's Soft Waves
You could be the girl with the full-on barrel curls on Valentine's Day…or you could be chic. Use a flatiron to create soft waves that'll frame your face and won't make you look like you're going to a middle school V-Day dance.
2Valentine's Day Hairstyle: Bangs
If you're looking for a sign that you should get bangs, this is it. Do it already!!! Not only is it a cute Valentine's Day look, but honestly, they're pretty easy to style too. Make your bangs lie flat by using a mini–hair straightener, then spritz on a hairspray to keep flyaways at bay.ADVERTISEMENT – CONTINUE READING BELOW3Valentine's Day Hairstyle: Hailey Bieber's Deep Side Part
Got last minute plans? This deep side part is the easiest way to switch up your look without having to book a Drybar appointment. Plus, it adds instant dimension to your look.4Valentine's Day Hairstyle: Wavy Bob
"But there aren't a lot of styles for short hair" is no longer a valid excuse for wearing the same basic bob look every day. Break out of your style rut and add texture to your hair in the form of soft waves.
ADVERTISEMENT – CONTINUE READING BELOW5Valentine's Day Hairstyle: Olivia Culpo's Side-Swooped Bangs
If you're not down to get actual bangs, fake it with this Valentine's Day hairstyle. Bump the ends with a curling iron to finish off the retro vibe.6Valentine's Day Hairstyle: Brushed-Back Hair
Or you could ditch the part completely and brush your hair straight back, like this Valentine's Day hairstyle. Work a hair oil through your ends to keep them sleek and shiny.ADVERTISEMENT – CONTINUE READING BELOW7Valentine's Day Hairstyle: Shay Mitchell's Braided Ponytail
You know what's less expensive that a face lift? A snatched braided ponytail. Spray on a texturizing spray before you begin braiding to add some grit and hold to this Valentine's Day hairstyle.8Valentine's Day Hairstyle: Hair Tendrils
Throw your hair back into a bun, secure it with a few bobby pins, then leave out a couple face-framing pieces for a simple yet cute Valentine's Day hairstyle.ADVERTISEMENT – CONTINUE READING BELOW9Valentine's Day Hairstyle: Low Bun
Instead of throwing your hair into a messy topknot, try out this sleek low bun for Valentine's Day. Don't worry about setting this look with a hairspray—it looks really pretty when it's a little messy and soft.10Valentine's Day Hairstyle: Twisted Ponytail
Okay, so, this may not be the easiest look to recreate (you may need to grab a friend for help), but isn't it so dreamy? Once you have your ponytail twisted, slick it down with a hair gel.ADVERTISEMENT – CONTINUE READING BELOW11Valentine's Day Hairstyle: Hair Accessories
After you deck out your ears in jewelry, accessorize TF out of your hair by pinning in a few super cute mismatched hair clips.12Valentine's Day Hairstyle: Messy Waves
Go for a full bombshell vibe this Valentine's Day with sexy, messy waves. For a super smooth look, work a shine-inducing oil through your hair.ADVERTISEMENT – CONTINUE READING BELOW13Valentine's Day Hairstyle: Kehlani's High Ponytail
Reach new heights with a high ponytail to complete your V-Day look. Think more Ariana Grande, less high school cheerleader. Lay your edges with a non-flaky and long-lasting edge control gel.14Valentine's Day Hairstyle: Kim Kardashian's Beachy Waves
I love the idea of styling your Valentine's Day hair in beach waves. It's super easy to do—just spritz on a salt spray and scrunch up your hair to define it.ADVERTISEMENT – CONTINUE READING BELOW15Valentine's Day Hairstyle: Double Bun
Whip up some double buns this Valentine's Day—no oven necessary. All you'll need is a rat-tail comb, hair gel, and bobby pins to copy this look IRL.16Valentine's Day Hairstyle: High Bun
Go for a Valentine's Day hair look that'll make you look extra fancy and rock a sleek high bun. Smooth a styling cream throughout the finished style to slick down stray hairs.ADVERTISEMENT – CONTINUE READING BELOW17Valentine's Day Hairstyle: Bobby Pins
Bobby pins are usually hidden, but it's way more fun to make them the main attraction in your Valentine's Day hairstyle. Go crazy and stack a bunch of bobby pins on the side of your head. I promise, you'll look cool (not crazy).18Valentine's Day Hairstyle: Half-Up, Half-Down
Throw the top half of your hair into a twisted top knot and mist a texturizing spray to the lower half for an effortless, cool girl updo look that's perfect for Valentine's Day.ADVERTISEMENT – CONTINUE READING BELOW19Valentine's Day Hairstyle: Margot Robbie's Hollywood Waves
Switch it up this Valentine's Day with a deep side part and classic Hollywood waves. The combo of the two gives your hair instant depth and dimension, which keeps it from looking flat.
20Valentine's Day Hairstyle: Zendaya's Cornrows
Take a page out of Zendaya's book and rock these straight-back cornrows this Valentine's Day. Be sure to wrap your braids in a silk scarf to keep your hair smooth while you get some shut-eye.