These recipes are so freaking easy.

by RUBY BUDDEMEYER JAN 28, 2020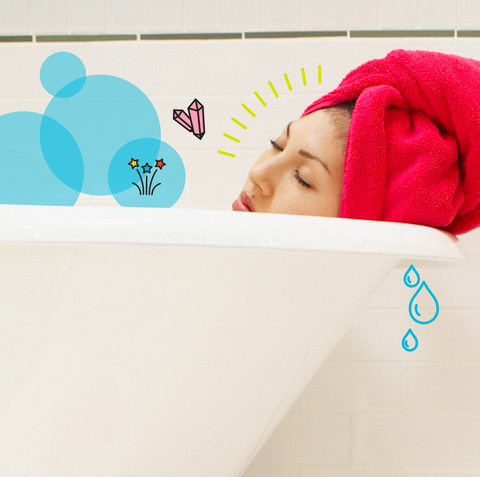 KHADIJA HORTON
Don't hate me, but there's some not-so-great info you gotta know about bath bombs: Even though they're a cute, Insta-worthy way to level up a boring bath, they aren't suuuuuper good for your skin. Like, yes, you'll find skin-friendly oils and moisturizers in most bombs, but the hero ingredient in basically every bath bomb recipe—aka what makes 'em fizz—is baking soda. And while baking soda might do an excellent job at neutralizing odors in your fridge ('sup, last week's pizza), it definitely doesn't belong on your skin…unless you're into potential dryness and irritation.
That means you aren't really doing any favors for your skin when you pop a bath bomb in your tub, especially if you have dry, sensitive, or eczema-prone skin (sry, I know). The good-ish news? If your skin is relatively unfazed by common irritants, you should be able to use a DIY bath bomb without totally compromising your barrier (as long as you aren't soaking for hours on end).
Convinced? Feelin' weird? A little rebellious? Great. Because I rounded up the best bath bomb recipes, including a soothing DIY for aches and pains, a peppermint foot soak, and a sensitive-skin-friendly alternative. Happy bathing, y'all.
Bath Bomb Recipe #1: This Natural DIY for Aches and Pains
ADVERTISEMENT – CONTINUE READING BELOW
SPONSORED BY CHASE FOR BUSINESS
Unlimited 1.5% cash back for those who have a business to runSEE MORE
Perfect for relaxing sore muscles after a long-ass day, this bath bomb recipe is easy, affordable, and natural (don't worry, YouTuber Our Raw Beauty will walk you through it). One more friendly reminder: Unless you have relatively "normal" skin (no dryness or irritation), you'll probs want to skip this one.
✨ DIY Bath Bomb Ingredients: ✨
---
Bath Bomb Recipe #2: This Peppermint Foot Soak
Not sure you want to soak your entire body? No prob, 'cause this bath bomb recipe is all about your feet. Vlogger Jessica Hill breaks it all down in this easy-to-follow tutorial that's excellent for softening dry skin and calluses (hate u, winter).
✨ DIY Bath Bomb Ingredients: ✨
---
Bath Bomb Recipe #3: This Oatmeal Lavender Bath Soak
Okay, fine. This recipe isn't technically a bath bomb, but it's a great alternative for all my sensitive-skin folks. You still get all the cuteness of a bath bomb (I mean, looook at the rose petals) with the gentle ingredients of a bath soak (think: coconut milk powder and rose hip oil). I'll let YouTuber TheKitchyKitchen take it from here.
✨ DIY Bath Soak Ingredients: ✨
RUBY BUDDEMEYER beauty editorRuby is the beauty editor at Cosmopolitan, where she covers beauty across print and digital.