For under- and over-packers alike.

by MILI GODIO JAN 28, 2020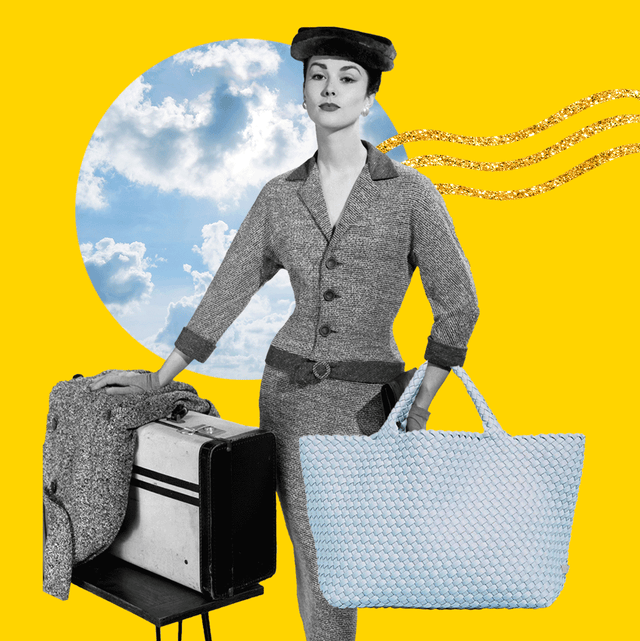 COURTESY / SANCHI OBEROI
Imagine: You've had a long, stressful week, you're overloaded with work, and your alarm goes off at 6:30am every day. Your mind is constantly daydreaming of traveling somewhere totally different for a change of scenery— somewhere with a tropical beach, a bustling city, or some stunning mountaintops. But then you quickly snap right out of it because you're like, "Ugh, I don't have time for a vacation!" You either can't miss work for a whole week or have a bunch of other boring things on your plate (like scheduling that dentist appointment you've been putting off).
But if you can't take a full-blown week-long vacay, weekend trips are the next best thing. There are a ton of luxurious places in each state that are worth visiting for a couple of days. Once you officially start planning (which, let's be honest, is half of the fun), you can start thinking about all the cute 'fits you want to bring with you, especially because you're not working with tons of space to bring your whole closet.
Let's face it, no one wants to carry a bulky, rolling suitcase—that takes up WAY too much room on a short trip. So instead opt for one of these weekender bags that are actually stylish AND happen to be pretty roomy, so you don't have to edit down your packing list too much. And there's a style for you no matter what type of trip you're going on, whether you're doing something outdoorsy or treating yourself to a chic hotel stay. here, 25 cute travel bags that'll make you look fab while you're escaping (albeit briefly) all your responsibilities. No shame, girl.1if you like keeping your shoes separateWeekend Bag in Beige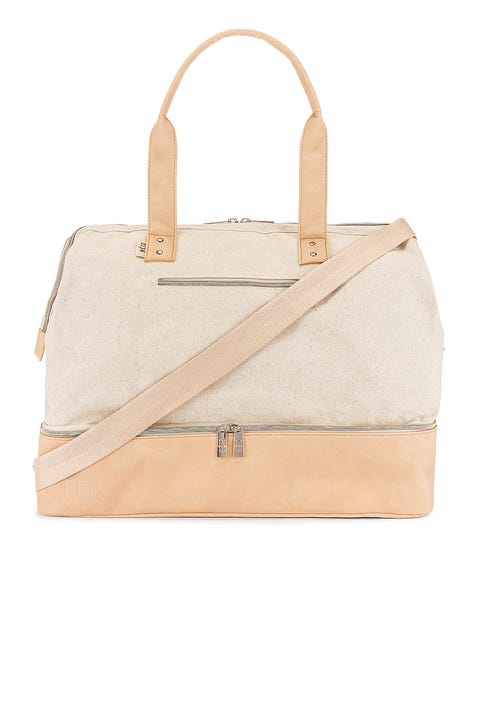 BEISrevolve.com$98.00SHOP NOW
This neutral-toned bag has multiple compartments to store all kinds of items, including a laptop, makeup, and shoes. It also comes with a practical flat bottom so it won't tip over while you're traveling. 2if you're into stripesWeekend Bag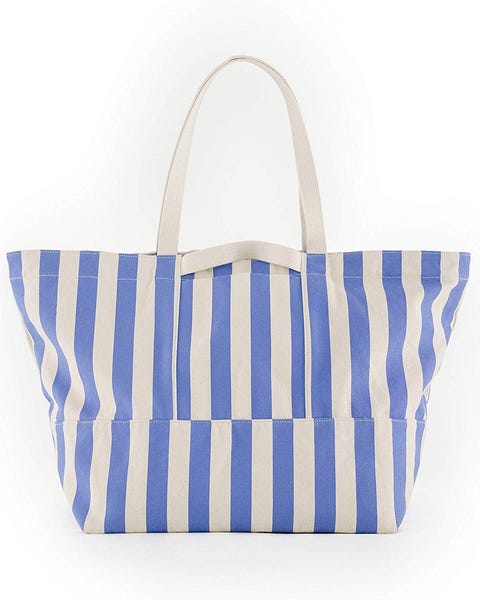 BAGGUamazon.com$86.00SHOP NOW
A fun, striped style made from recycled cotton looks cute, but it's also good for the Earth. It has two sets of straps so you can choose how to carry it, and it comes with a portable zip pouch inside for loose items. 3if you like smart storagePackable Duffle Bag
HERSCHELamazon.com$28.97SHOP NOW
A classic duffle that packs down into a small pouch when it's not in use will save you so much closet space. When opened, it reveals a pretty floral pattern and extra-long straps that make carrying a heavy load that much easier. ADVERTISEMENT – CONTINUE READING BELOW4if you like quilted texturesWingman Bag, Pearl Gold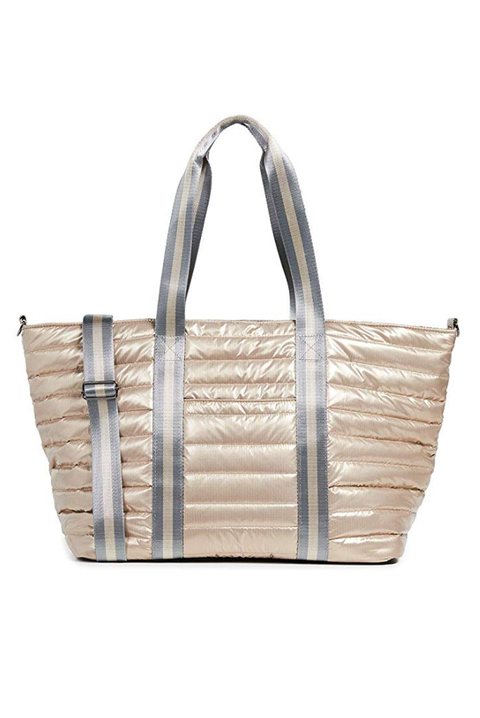 THINK ROYLNamazon.com$188.00SHOP NOW
This plushy tote is designed for comfort and organization, giving you a ton of space and pockets for all your needs. The sporty straps are durable, but if you need a little crossbody action, the detachable strap is a must. 5if you're a light packerLe Pliage Club Small Shoulder Tote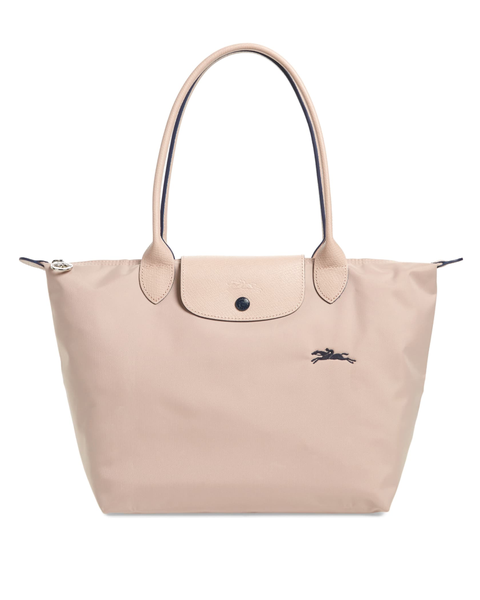 LONGCHAMPnordstrom.com$140.00SHOP NOW
With its compact size and secure closure, this tote is great for thin, light items that don't take up a ton of interior space, like cotton shirts, bathing suits, and breezy palazzo pants. If you know you pack light (kudos to you!), this is a minimal bag you'll want. 6if you're bring a computer with youHue Duffle Bag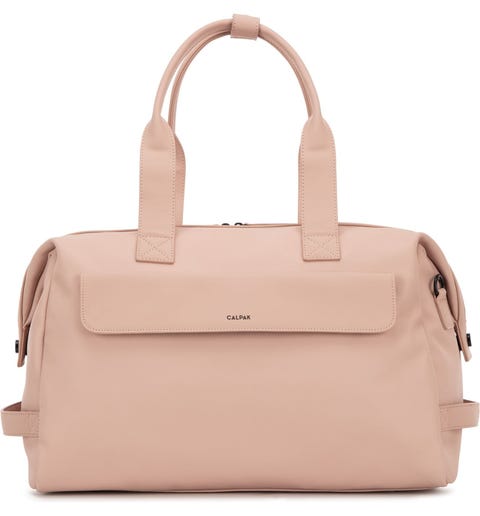 CALPAKnordstrom.com$140.00SHOP NOW
This duffle is sleek, sophisticated, fits a 15-inch laptop, and even slides over a suitcase if needed. The side handles make it more functional and easier to handle if it's heavy. ADVERTISEMENT – CONTINUE READING BELOW7if you want a multi-use bagGo Getter Bag 26L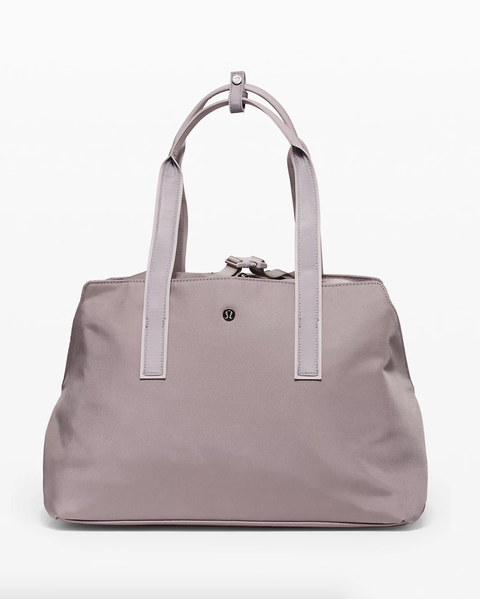 LULULEMONlululemon.com$148.00SHOP NOW
Yes, technically this is a gym bag, but it'll still hold all of your vacation needs thanks to the spacious, pocketed interior. 8if you're into nylon fabricsThe Weekender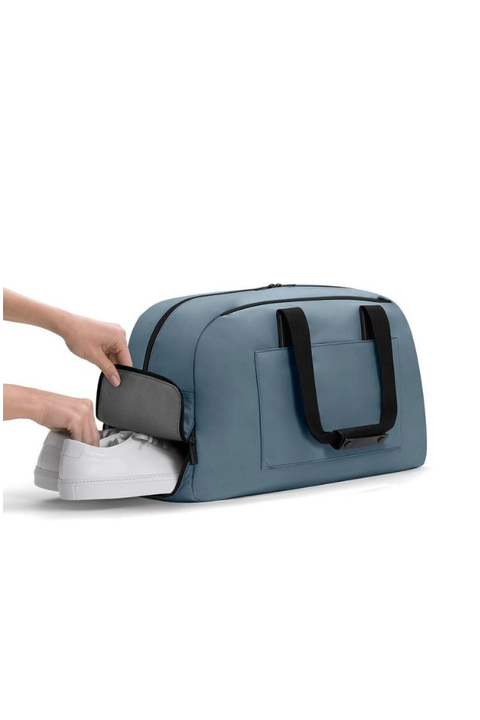 AWAY TRAVELawaytravel.com$225.00SHOP NOW
This perfectly simple weekender is versatile in the best ways: It has a built-in shoe compartment and a padded laptop pocket that'll keep the most important things safe. Plus, it slides over a luggage handle if you just NEED to bring a suitcase with you. 9if you're more into backpacksBorealis Backpack, Bright Navy/Urban Navy Heather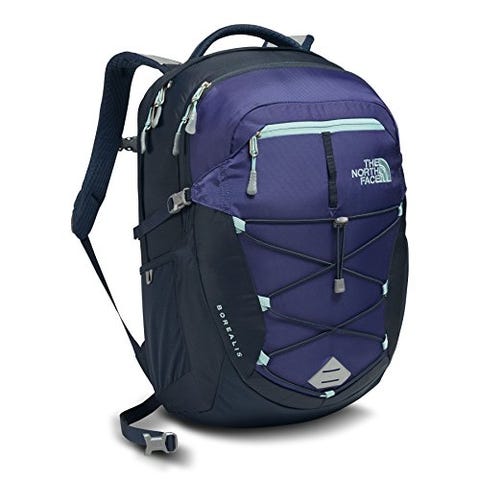 THE NORTH FACEamazon.com$129.98SHOP NOW
The double-strap option of a backpack will pretty much guarantees comfortable travel and that your belongings stay secure. This one is lightweight and has flexible fabric that can stretch if you pack it really full (guilty). The bungee cording on the back also helps you tote extra items that might not fit inside the zippered compartment. ADVERTISEMENT – CONTINUE READING BELOWSPONSORED BY FOSSIL
Celebrate everyone you love (yes, even yourself!) with personalizable Valentine's Day gifts.SEE MORE10if you're planning to hit the beachSt. Barths Medium Tote Bag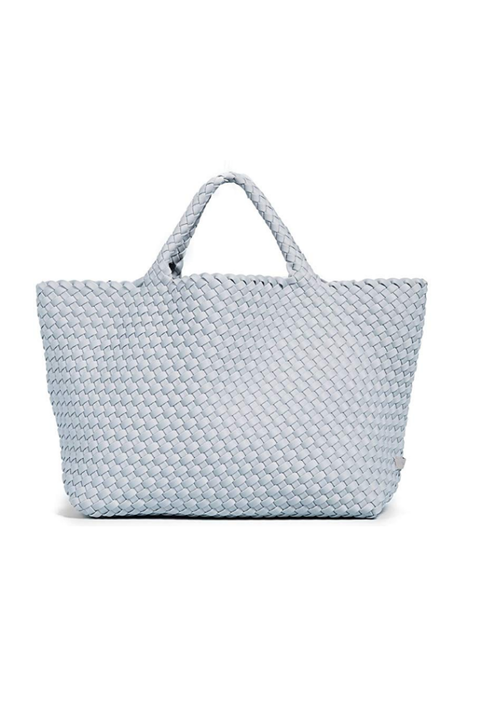 NAGHEDIamazon.com$240.00SHOP NOW
This adorable tote has basket-weave stitching with a beachy aesthetic that'll go great with your tan. It even comes with a smaller zip pouch for extra storage. The trendy and soft neoprene fabric is also perfect for non-beach outings, FYI. 11if you might be extending your stayTriple Zipper Weekender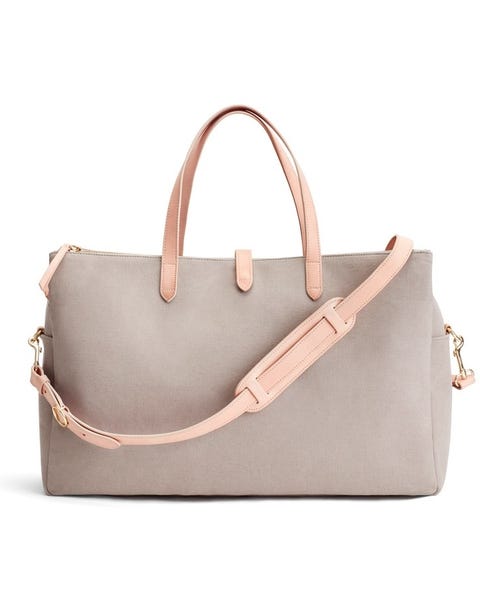 CUYANAcuyana.com$285.00SHOP NOW
Your weekend wanders will be complete with this luxe travel bag that has not one, not two, but THREE zippered interiors. So basically if you decide to stay one more night, it'll fit an extra ensemble. 12if you like a pesonal touchWeekender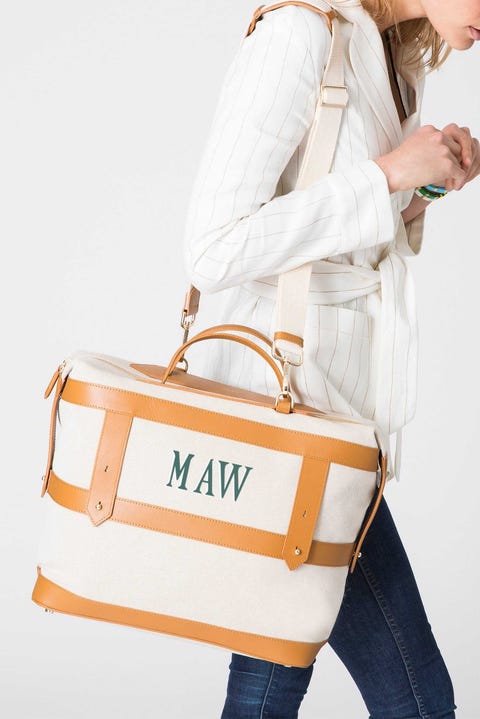 PARAVELtourparavel.com$295.00SHOP NOW
This convenient weekender, with its adjustable shoulder strap and spacious interior, is also customizable! You can include your initials or some ridiculously adorable hand-painted emojis. The contrasting leather straps make it super chic too. ADVERTISEMENT – CONTINUE READING BELOWSPONSORED BY FOSSIL
Celebrate everyone you love (yes, even yourself!) with personalizable Valentine's Day gifts.SEE MORE13if you want somethin' sustainableThe Catalina Deluxe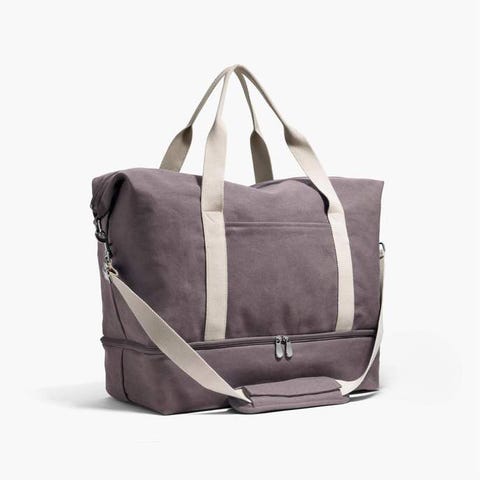 LO & SONSloandsons.com$100.10SHOP NOW
This bag has a lot going for it: it's water resistant, stands upright by itself, and it's made from sustainable organic cotton. And if you thought it couldn't get better, it's also really freaking soft. 14if you like lots of compartmentsThe Essential Weekender Bag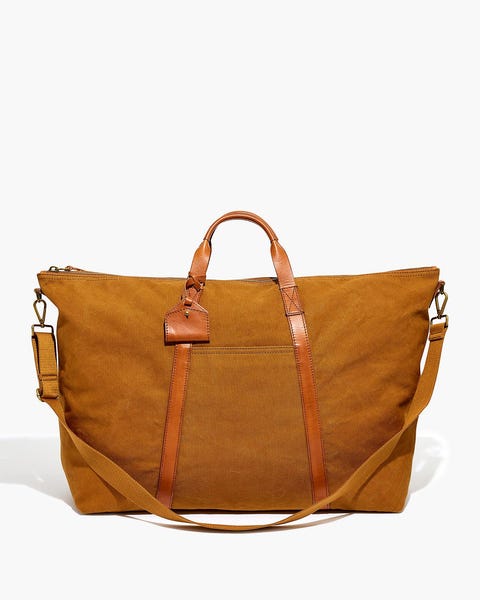 MADEWELLmadewell.com$188.00SHOP NOW
This trendy overnight style is perfect for hands-free travel—you can wear it as a cross-body and store your phone in a sneaky little side pocket. With the divided pockets inside, you'll keep everything so organized. 15if you're into a boho aestheticLoveShackFancy Oran Weekend Bag in Multi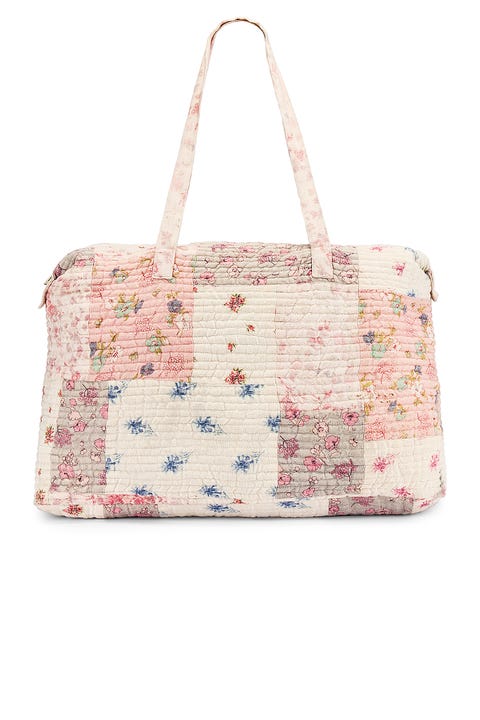 LOVESHACKFANCYrevolve.com$265.00SHOP NOW
Grandma, but make it fashun, right? With a woven textile exterior, this weekender is a great option if you want something unique yet chic. ADVERTISEMENT – CONTINUE READING BELOW16if you prefer a fun printSignature Cotton Large Travel Duffel Travel Bag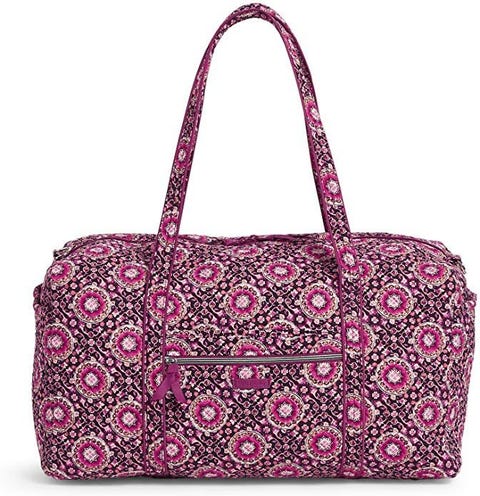 VERA BRADLEYamazon.com$70.00SHOP NOW
IMO your weekend bag should reflect the excitement of your vacation. What better way than with a lively print?! This Vera Bradley travel bag will hold all of your necessities with its EIGHT slip pockets while also looking way cute. 17if you're an animal-friendly queenVegan Leather Duffels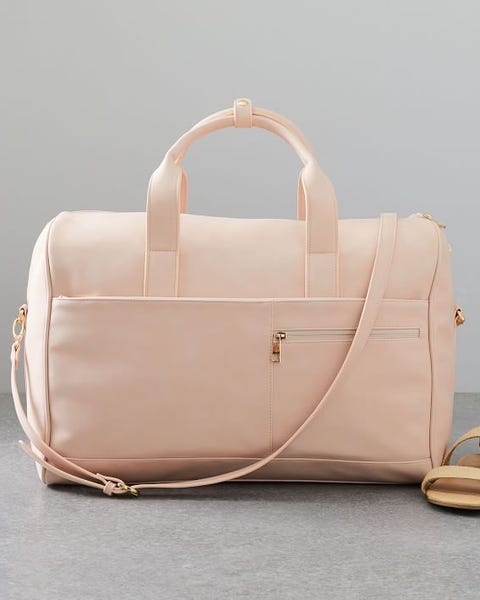 ECOTECH LUGGAGEwestelm.com$129.00SHOP NOW
Not only is this duffle made out of cruelty-free vegan leather, it's also incredibly soft and the fabric definitely holds up with wear. 18if you're into a classic vibeNo. 21 Weekender Tote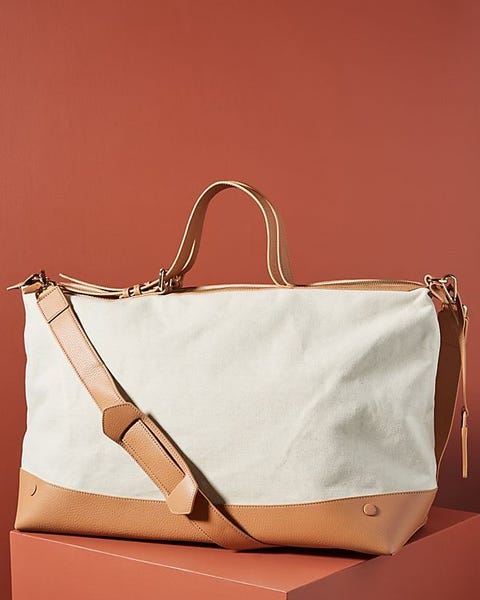 NEELY & CHLOE ANTHROPOLOGIEanthropologie.com$328.00SHOP NOW
This canvas and leather tote looks super stylish, but it also has a spacious interior and sturdy upper handles that lock into place with a buckled strap. ADVERTISEMENT – CONTINUE READING BELOW19if you like compact stylesLandon Carryall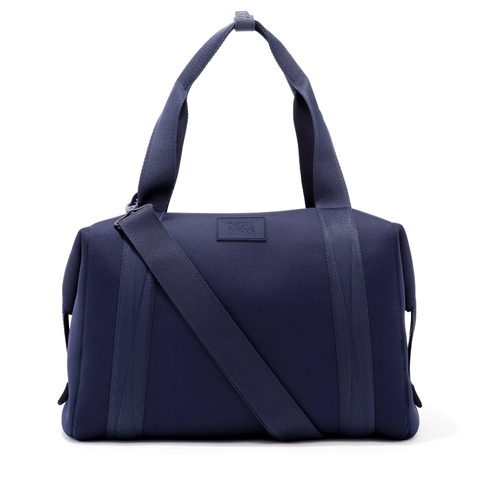 DAGNE DOVERdagnedover.com$185.00SHOP NOW
This top-rated overnight bag is perfect for traveling because it's made of soft neoprene. And that's important why? Well, it won't be uncomfortable against your body, and all your belongings will be cushioned. It also comes soooo many colorful designs you won't be able to resist. 20if you're planning an adventurous tripBase Camp Duffle Design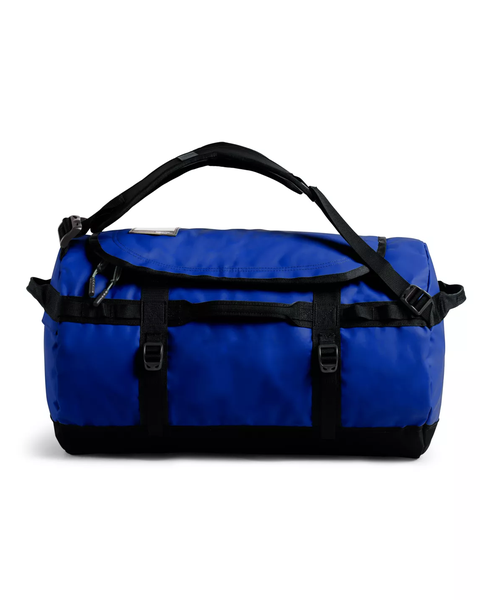 THE NORTH FACEthenorthface.com$120.00SHOP NOW
A versatile duffle that doubles as a backpack (!!!), this style is ideal if you're doing some heavy-duty outdoorsy traveling. Its water-resistant material and double stitching can handle unpredictable weather—i.e., you don't need to stress if you're caught in a downpour. 21if you're a spontaneous plannerLori Tote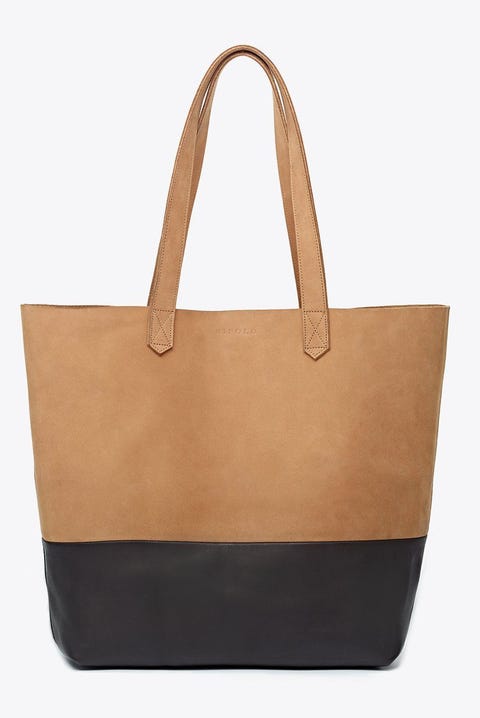 NISOLOnisolo.com$168.00SHOP NOW
More of a last-minute trip gal? You can trust that this guy will hold just about anything you throw into it. Sure, it might not have organizational compartments or pockets, but it's great if you're not a meticulous packer. ADVERTISEMENT – CONTINUE READING BELOW22if you prioritize sophisticationThe Weekender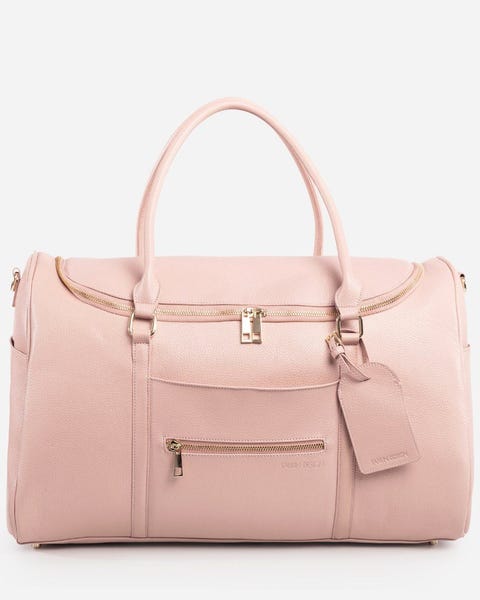 FAWN DESIGNfawndesign.com$199.99SHOP NOW
Gold details add a polished look to this vegan leather shoulder bag while the nylon interior is super easy to clean.23if you want it to double as a purseWillow Vintage Tote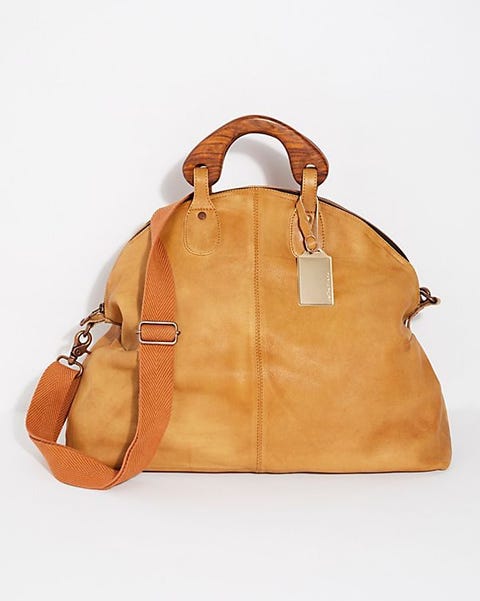 FREE PEOPLEfreepeople.com$228.00SHOP NOW
Move over boring messenger bags, this tote adds a new spin to a typical look. With an extra-large interior and handy slip pocket, it'll also be sure to hold everything your heart desires and more (or at the very least a bulky pair of shoes). 24if you anticipate some stainsRemus 2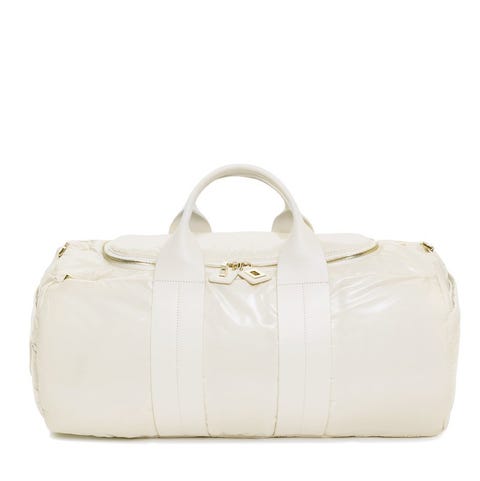 CARAAcaraasport.com$350.00SHOP NOW
This bag is waterproof so you don't have to worry about it being damaged from bad weather. It also has breathing panels for odor control, a laptop pocket, a charging dock, and can even be worn as a backpack. It really does it all?!25if you want pockets for daysCrosby Traveler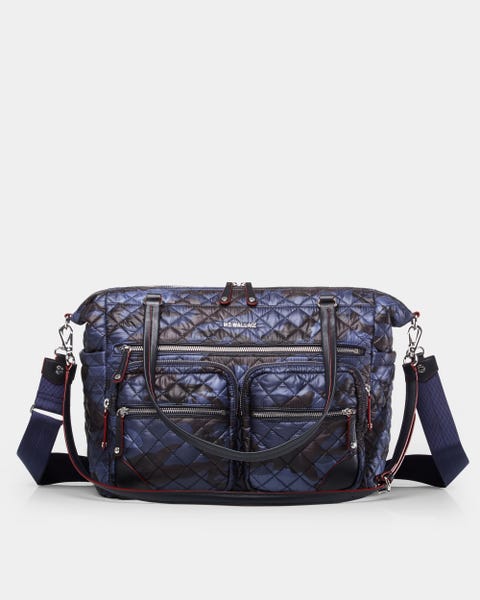 MZ WALLACEmzwallace.com$395.00SHOP NOW
So. Many. Pockets. This travel staple will make it easy to find everything you packed the day before (yes, even the tiny, loose items you were too lazy to place into individual baggies). And if you decide to take an actual suitcase, this will secure perfectly on top for extra comfort.MILI GODIOMili is a Cosmopolitan intern who loves all things fashion, beauty, and pop culture.